Classic Car Club, Scotland, Ltd has become Fantasy Fleet Club!
Supercar, Sports and Luxury Car Shared Ownership in Scotland
After 10 years operating a club that gave access to supercars, sports cars and luxury cars in Scotland via an annual membership scheme, CCCS has been taken over by its members and become the Fantasy Fleet Club. The members have become investors, with shared (or 'fractional') ownership of a fleet of supercars, sports cars and luxury cars, and have ongoing access to this fleet. Although the cars are normally only available to investors in Fantasy Fleet Ltd, they are available for one-off hires via Fantasy Garage - www.fantasygarage.co.uk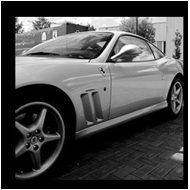 Investment in Fantasy Fleet Ltd is available in multiples of 5,000 shares, starting at 10,000 shares. The nominal value of each share is £1, but the actual value may fluctuate over time according to fleet valuation and trading conditions. There is also an annual subscription fee to cover running costs. Investors receive an annual 'dividend' of points, which are used to book cars using the same points system as the old CCCS. The number of points awarded depends on the size of shareholding, but with a 10,000 share holding, you could expect around 20 days use of a luxury sports car or super car every year!
In a world where interest rates would mean that £10,000 in the bank would struggle to pay you £100 per year, you could trade that £100 interest for days or weekends driving a vehicle from our mouthwatering choice of luxury sports and super cars, such as our Aston Martin DB9 or Ferrari 360 Spider. And while your money is safe in the bank, it's also relatively safe with Fantasy Fleet as it's backed by the asset value of the fleet. See how it works and the answers to some common questions.
Latest Addition to the Fleet
Porsche Boxster 3.4 S


Following the successful acquisition of our Aston Martin DB9 Volante in 2014, we recently added a 2008 Porsche Boxster S to the fleet.

Facebook

See what we've been up to lately